~~~ Voor dit werk heb ik een geurstudie uitgevoerd naar de geur van varken in Limburg. Samen met varkenshouders onderzocht ik hoe de geur van varkens zich manifesteert in het landschap. De verzameling van geuren en de gevoelens en ervaringen die de geur van varken oproept zijn tastbaar gemaakt in een parfum balsem van varkensvet, ontworpen door geurontwerper Tanja Schell, in een keramische houder ontworpen door Mariska Koolen en in een film, gefilmd door Marijn Smulders. In opdracht van Museum Bommel van Dam / Circular Art Lab Limburg.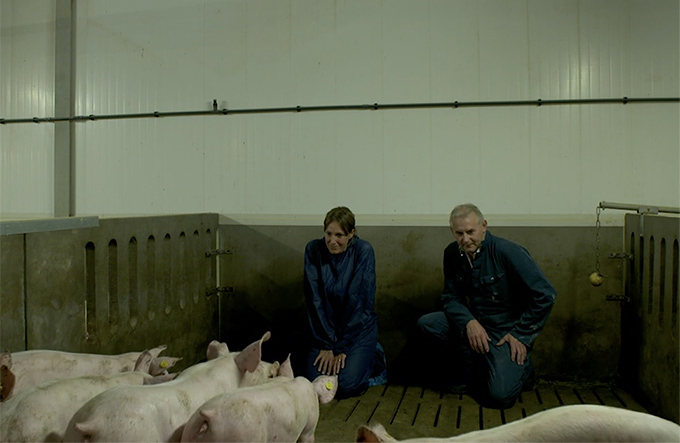 'WOOD, THE SYLLABLE IS MADE OF WOOD'
performance reading (2018)

~~~ 'WOOD, THE SYLLABLE IS MADE OF WOOD' is a sentence spoken by Tamara, a woman with aphasia. I made a performance reading together with her. Before her stroke, Tamara was a practicioner of rhytmic gymnastics. For this performance reading I asked Tamara to speak about rhytmic gymnastics. Whilst she speaks, she forgets words, falters and substitutes letters, syllables or words. This reading explores our perception of the other in a situation where speech is affected by a nervous disturbance of the body. Tamara speaks together with me and a group of vocal improvisors that acoustically mimic the qualities of her fragile and faltering voice. This reading was performed at PERDU, Amsterdam and is the third version in the series: APHASIC READINGS

LANGUAGE OF PLAY / SPEELTAAL

performance / research arts education (2013 - now)

~~~ From 2013 onwards, I direct an arts education initiative for young children (zero to six years old), in collaboration with a group of interdisciplinairy performance artists. I founded a foundation for this activities: Kleintjekunst. During the years we invented and practiced methods and strategies that stimulate young children to learn (about art) in a self-discovering way. This approach emphasizes physical and non-verbal forms of knowledge transfer. Children learn through their body and through the acquisition of sensory experiences, by moving, by feeling, by listening and by expressing themselves in movement, sound, rhythm or form.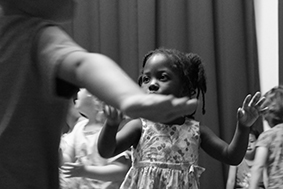 BADEN
(2017)

~~~ BADEN bestond uit een verzameling van open performatieve sessies, op een publiek strandje, en sommige in de studio ruimte. Tijdens deze oefensessies vroeg ik dansers en zangers om een interactie op te bouwen met Jan. Jan heeft Chorea athetose, ook wel de dansziekte genoemd. Het uitgangspunt voor iedere interactie was de manier waarop Jan op een zandstrand alledaagse handelingen uitvoert. Jan trekt een T-shirt aan, tekent een vorm in het zand, kijkt naar de zon. Zijn gebaren en handelingen worden vervormd door abrupte en ongecontroleerde veranderlijke bewegingen, spasmes. Tijdens de oefensessies zochten we samen naar uitwisselingen met Jan waarbij de verschillen tussen spastisch en niet-spastisch oplossen in een kluwen van lichamen en een opeenvolging van lichamelijke, gevoelige en fragiele vormen van uitwisseling.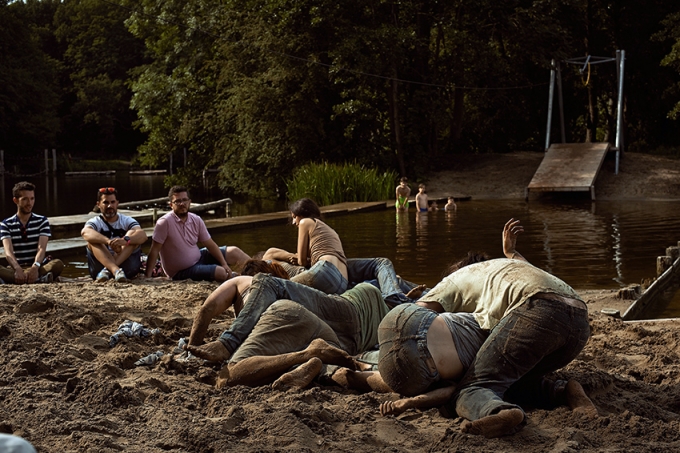 APHASIC READINGS

performance readings (2016-2017)

~~~ For this performance readings I work closely together with Tamara, a singer with aphasia. Aphasia is a speaking disorder. Aphasic individuals have difficulty forming speech as a result of brain damage. These readings are a play between an aphasic voice, her surrounding and a choir. Every reading explores how perception takes shape in a situation where existing forms of language are affected by speechlessness, the inability to form words. The reading begins with a text or description read by Tamara. She speaks together with a group of vocal improvisors that acoustically mimic the qualities of Tamara her voice.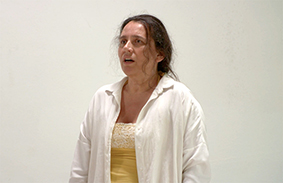 AFTER IMAGE

performative workshop (2017)

~~~ Fall 2017, I guided performative workshops about the perception of colour, at De School. Visitors of Amsterdam Dance Event are guided through exercises that intensify the perception of colour. By covering the eyes and with a focus on embodied and multi-sensory ways of looking, we concentrated on seeing an after image. This performative workshop was guided by me and Linda and Alicia, two girls with vision impairment. The workshops took place in the light installations of Children of the Light and activated a moment of stillness within the club.