~~~ Voor dit werk hebben we een zintuiglijke geurstudie uitgevoerd naar de geur van varken. Samen met varkenshouders in Limburg onderzochten we hoe de geur van varkens zich manifesteert in het landschap. De diversiteit aan geuren en de gevoelens en ervaringen die de geur van varken oproept zijn tastbaar gemaakt in een huidbalsem ontworpen door geurontwerper Tanja Schell, in een keramische houder ontworpen door Mariska Koolen en in een film van Marijn Smulders. In opdracht van Museum Bommel van Dam / Circular Art Lab Limburg.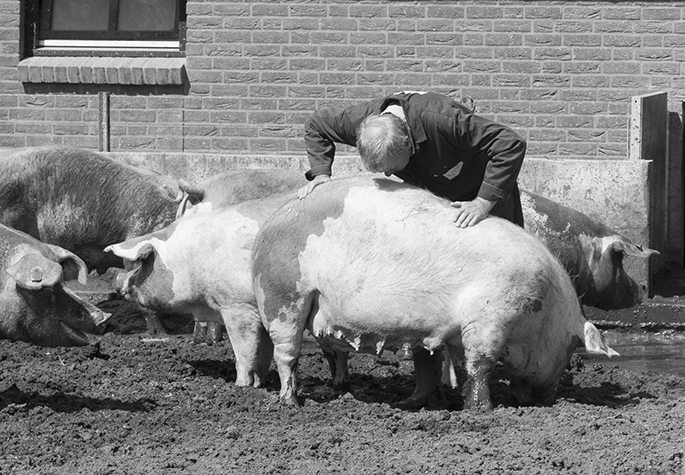 'WOOD, THE SYLLABLE IS MADE OF WOOD'

performenance reading (2018)

~~~ 'WOOD, THE SYLLABLE IS MADE OF WOOD' is a sentence spoken by Tamara, a woman with aphasia. I made a performance reading together with her. Before her stroke, Tamara was a practicioner of rhytmic gymnastics. For this performance reading I asked Tamara to speak about rhytmic gymnastics. Whilst she speaks, she forgets words, falters and substitutes letters, syllables or words. This reading explores our perception of the other in a situation where speech is affected by a nervous disturbance of the body. Tamara speaks together with a choir that echoes and dissolves the qualities of her fragile and faltering voice.

LANGUAGE OF PLAY / SPEELTAAL

performance / research arts education (2013 - now)

~~~ From 2013, I direct an educational art education project for young children, some indicated with a speech-language deficit, together with welfare foundation SWAZOOM a collective of performance artists. We founded a foundation for this activities: www.Kleintjekunst.com. Our approach is based on the idea that young children learn (about art) in a self-discovering way. In our programs, we emphasize learning through the body. Our method is aimed at non-verbal knowledge transfer, children learn through the acquisition of sensory experiences, by moving, by feeling and expressing themselves in movement, sound, rhythm or form. In this way, attention shifts to physical and non-verbal forms of learning.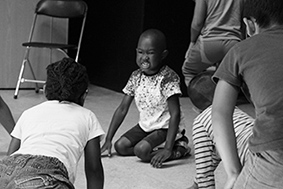 BADEN
performance & study of the language of the spastic body (2017)

~~~ Op een zandstrand voert een danser met chorea athetose alledaagse handelingen uit. Chorea athetose, de dansziekte, is een bewegingsstoornis. Chorea =dans, athetose = veranderlijk. De danser trekt een T-shirt aan, tekent een vorm in het zand, kijkt naar de zon. Zijn gebaren en handelingen worden vervormd door abrupte, ongecontroleerde veranderlijke bewegingen, spasmes. Dansers en zangers van Genetic Choir bouwen een interactie op met de danser. Langzaam maken woorden plaats voor klanken, en verschuift de nadruk naar meer lichamelijke, gevoelige en fragiele vormen van uitwisseling.