~~~ Dit voorjaar doe ik een residentie bij Reinaerde, een zorginstelling voor mensen met een meervoudige beperking. In deze tijd dat aanraking problematisch is geworden door een virus wil ik onderzoeken hoe het mogelijk is om een zintuiglijk en gezamenlijk maakproces op gang te brengen van een afstand. Hoe betrek je een ander in een maakproces waarbij aanraking en nabijheid essentieel zijn? Hoe speel je met elkaar als je niet dichtbij elkaar kan zijn? Hoe initieer je een zintuiglijke wisselwerking of interactie zonder woorden, met een scherm ertussen? In opdracht van RE_CREATIE, Reinaerde en Mondriaan Fonds.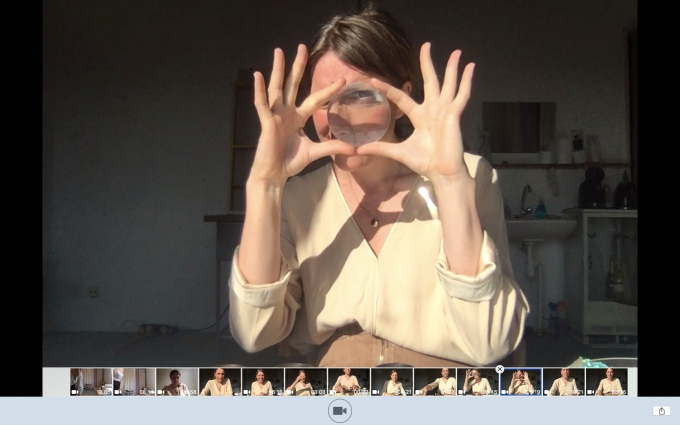 JAN
script voor een dans performance (2019-2020)
~~~ Samen met Jan maak ik een script voor een dans performance. Jan heeft zijn vermogen om te bewegen bijna verloren. Hij is een danser. Samen met hem onderzoek ik hoe we zijn ideeen en gevoelens kunnen uitdrukken in scenario's. Ik ga naar hem toe, ik teken, noteer of verbeeld zijn gedachten in een beweging. Iedere keer een zin of een beeld. Deze stills zijn gemaakt op dinsdagochtend in Jan zijn kamer in het revalidatiecentrum. Marijn Smulders filmt.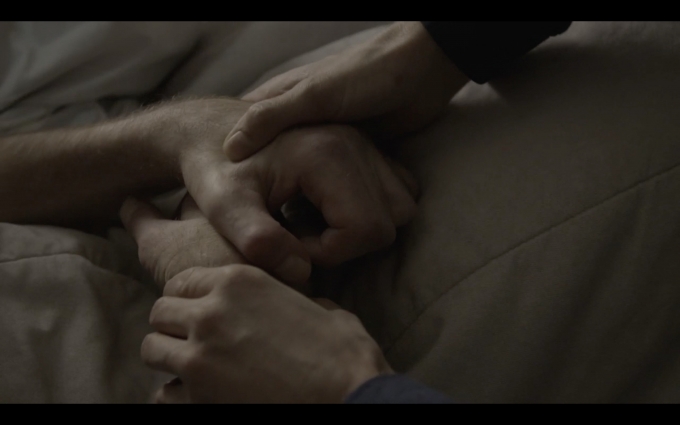 PARFUM VARKEN
een geuronderzoek met varkenshouders, een parfumbalsem en een film (2018)
~~~ Dit werk is een gezamenlijk onderzoek naar de geur van varken in Limburg. Samen met varkenshouders onderzocht ik hoe de geur van varkens zich manifesteert in het landschap. De verzameling van geuren en de gevoelens en ervaringen die de geur van varken oproept zijn tastbaar gemaakt in een parfum balsem van varkensvet, ontworpen door geurontwerper Tanja Schell, in een keramische houder ontworpen door Mariska Koolen en in een film, gefilmd door Marijn Smulders. In opdracht van Museum Bommel van Dam / Circular Art Lab Limburg.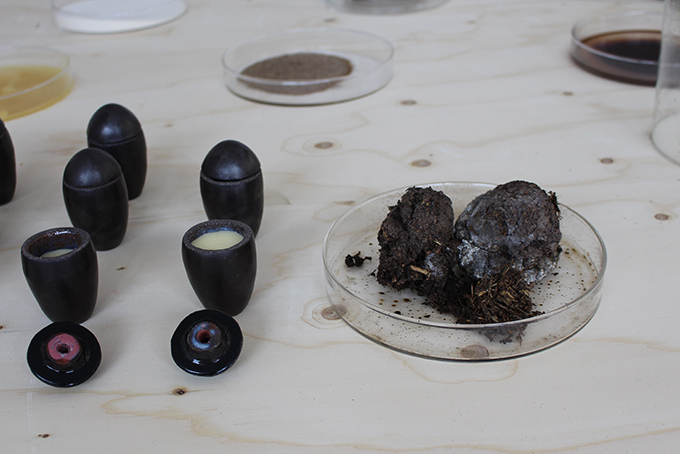 'HOUT, DE LETTERGREEP IS GEMAAKT VAN HOUT.'

performance reading (2018)

~~~ ''HOUT, DE LETTERGREEP IS GEMAAKT VAN HOUT.' is een zin gesproken door Tamara, een vrouw met afasie. Ik heb samen met haar een performance-lezing gemaakt. Voor haar beroerte was Tamara een beoefenaar van ritmische gymnastiek. Voor deze lezing vroeg ik Tamara om te spreken over ritmische gymnastiek. Terwijl ze spreekt, vergeet ze woorden, hapert ze en verwisselt ze lettergrepen of woorden. Deze lezing onderzoekt hoe we de ander waarnemen, waar we naar luisteren en wat we verstaan in een situatie waarin spraak wordt beinvloed door een zenuwverstoring van het lichaam. Tamara spreekt samen met mij en een groep vocale improvisatoren die de kwaliteiten van haar fragiele en haperende stem akoestisch nabootsen, contrasteren of vloeiender laten klinken. Deze lezing werd uitgevoerd in PERDU, Amsterdam en is de derde versie in de serie: APHASIC READINGS

KINDERSPEL

onderzoek (2013 - nu)

~~~ Als kunstenaars en kinderen samen spelen. Vanaf 2013 geef ik leiding aan een kunst-initiatief voor jonge kinderen (nul tot zes jaar oud), in samenwerking met een groep kunstenaars in de disciplines dans, visueel, ontwerp en muziek. Ik heb een stichting voor deze activiteiten opgericht: Kleintjekunst. In de loop der jaren hebben we een werkwijze ontwikkeld en beoefend waarmee we jonge kinderen stimuleren om te spelen en op een zelf ontdekkende manier te leren (over kunst). Onze benadering gaat uit van lichamelijke, zintuiglijke en non-verbale vormen van communicatie. Kinderen leren met hun lichaam en door het verwerven van zintuiglijke ervaringen: door te bewegen, door te voelen, door te luisteren en door zich uit te drukken in beweging, geluid, ritme of vorm.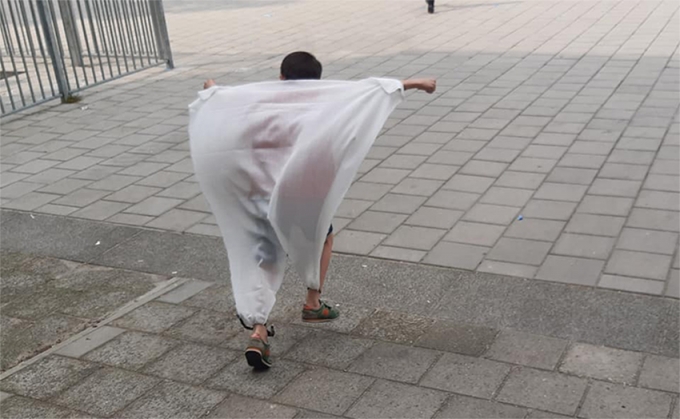 BADEN

series performances op publiek strand (2017)

~~~ BADEN bestond uit een verzameling van open performatieve sessies, op een publiek strandje. Tijdens deze werksessies vroeg ik dansers en zangers om een interactie op te bouwen met Jan. Jan heeft Chorea athetose, ook wel de dansziekte genoemd. Het uitgangspunt voor iedere interactie was de manier waarop Jan op een zandstrand alledaagse handelingen uitvoert. Jan trekt een T-shirt aan, tekent een vorm in het zand, kijkt naar de zon. Zijn gebaren en handelingen worden vervormd door abrupte en ongecontroleerde veranderlijke bewegingen, spasmes. Tijdens de oefensessies zochten we samen naar uitwisselingen met Jan waarbij de verschillen tussen spastisch en niet-spastisch oplossen in een kluwen van lichamen en een opeenvolging van lichamelijke, gevoelige en fragiele vormen van uitwisseling.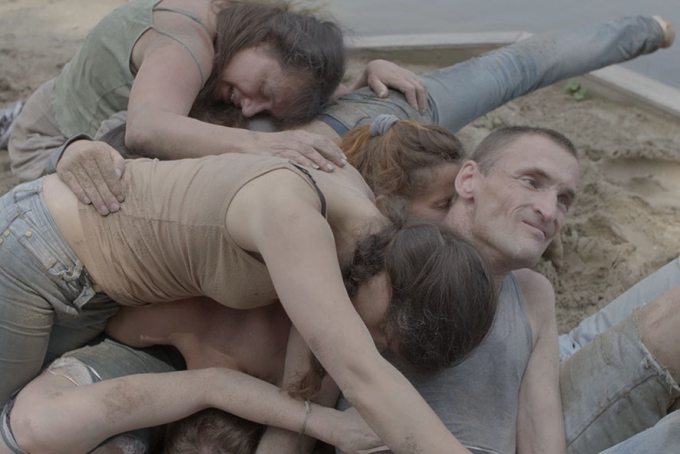 APHASIC READINGS

performance readings (2016-2017)

~~~ For this performance readings I work closely together with Tamara, a singer with aphasia. Aphasia is a speaking disorder. Aphasic individuals have difficulty forming speech as a result of brain damage. These readings are a play between an aphasic voice, her surrounding and a choir. Every reading explores how perception takes shape in a situation where existing forms of language are affected by speechlessness, the inability to form words. The reading begins with a text or description read by Tamara. She speaks together with a group of vocal improvisors that acoustically mimic the qualities of Tamara her voice.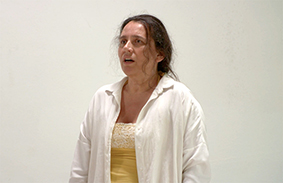 AFTER IMAGE

performative workshop (2017)

~~~ Fall 2017, I guided performative workshops about the perception of colour, at De School. Visitors of Amsterdam Dance Event are guided through exercises that intensify the perception of colour. By covering the eyes we concentrated on seeing an after image. This performative workshop was guided by me and Linda and Alicia, two girls with vision impairment. The workshops took place in the light installations of Children of the Light and activated a moment of stillness within the club.