~~~ For Curepark, I worked together with people who have difficulties with speech or gesture as a result of brain damage. At a small sandy beach, performers with spasm, dancers, and a choir practice new forms of exchange when a nervous disturbance of the body affects speech and gesture. The relations and forms that emerge when performers engage with the language of the spastic body are made visible in a performance and video. (read more)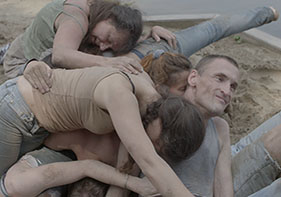 CIRCLE
performance (2016-2017)
~~~ For this performance I work together with speakers with a (= no) phasia (= speech), a speaking disorder. The readings explore how perception takes shape in situations where existing forms of language are affected by speechlessness, the inability to form words. A woman with aphasia reads. She speaks together with a choir that echoes the qualities of her fragile and absent voice. (read more)
'I PROPOSE, WITHOUT EMOTION TO DECLAIM THE BIZARRE AND FANTASTIC SCENE WHICH YOU ARE ABOUT TO ENCOUNTER. YOU, PAY ATTENTION TO ITS CONTENTS AND BEWARE OF THE UNUSUAL IMPRESSION, WHICH IT WILL NOT FAIL TO LEAVE, LIKE A BRAND ON YOUR PERPLEX IMAGINATIONS',
text and performance (2015)
~~~ Fall 2015, I did artistic reasearch in the psychiatric institution GGZ Altrecht, Den Dolder, where I engaged myself in relations with people that suffer from a psychotic syndrome. These people see shapes that I did not see, hear voices that I did not hear and wear heavy wools in the midst of summer. I wrote a text that mirrors the diagnostic vocabulary that is used to observe and analyse a psychotic syndrome and performed this text as a reading.