~~~ Spring, summer and autumn 2018, I will work on a collective and sensory research on the perception of the smell of pigs. In collaboration with pig farmers we explore how the smell of pigs manifests itself in the landscape of Northern Limburg and the feelings and sensations that are evoked by pig smell. The outcomes become visible and tangible in a video installation and a solid perfume. In collaboration Museum Bommel van Dam / Circular Art Lab Limburg and smell designer Tanja Schell.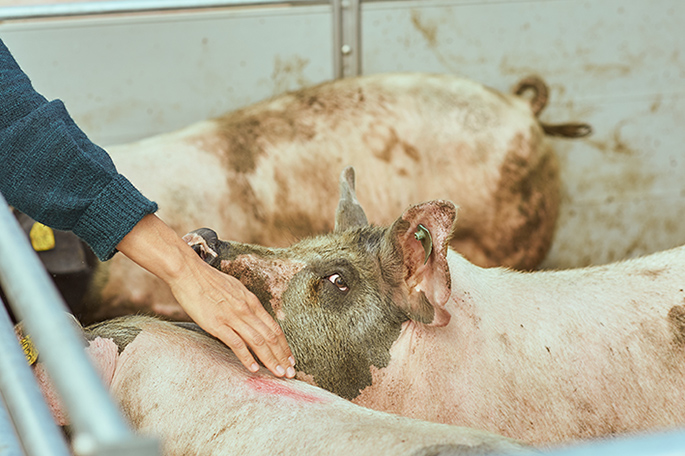 'WOOD, THE SYLLABLE IS MADE OF WOOD'

performance reading (2018)

~~~ 'WOOD, THE SYLLABLE IS MADE OF WOOD' is a sentence spoken by Tamara, a woman with aphasia. I made a performance reading together with her. Before her stroke, Tamara was a champion in rhytmic gymnastics. In this performance she speaks about rhytmic gymnastics. She forgets words, falters and substitutes letters, syllables or words. This reading explores our perception of speech in a situation where spoken language is affected by a nervous disturbance of the body. Tamara speaks together with a choir that echoes or dissolves the qualities of her fragile and absent voice.

LANGUAGE OF PLAY / SPEELTAAL

performance / research arts education (2013 - now)

~~~ From 2014 I direct an educational art performance project for young children indicated with a speech-language deficit at 60 pre-school groups in Amsterdam Zuidoost, together with welfare foundation Swazoom and a collective of performance artists. Our approach is based on the idea that young children learn (about art) in a self-discovering way through the acquisition of sensory experiences involving their entire body, in interaction with their environment. In our programs, we emphasize learning through the body. Our method is aimed at non-verbal knowledge transfer, children learn through experiences, by moving, by feeling and expressing themselves in movement, sound, rhythm or form. In this way, attention shifts to physical and non-verbal forms of learning.